---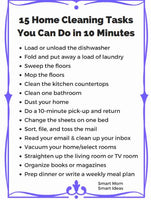 Keeping your home clean doesn't have to be hard or take all day.
Here's a list of 15 home cleaning tasks you can do in 10 minutes (or less). 
Print a copy and post it on your refrigerator and do one or two cleaning tasks when you have an extra 10 minutes in your day.  You'll be surprised how much you get done.
Instant digital download (nothing will be shipped).
10-Minute Home Cleaning Tasks Cheat Sheet
Very Helpful
It's hanging on the fridge for quick reference and also for "bored" moments with my kids.
Handy List
This is a nice printable list to have and a handy reminder. However, a lot of these tasks I can't complete in 10 minutes but sure wish I could!