---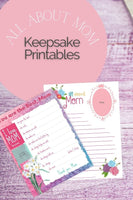 Make mom smile with these All About Mom Keepsake printables.  
These sweet printables will let your kids share new insights about mom like her age (29 forever right?), her hobbies, my best day with mom and more.
This 2-page printable includes the All About Mom printable and You are the Best, Mom printable.
Let your kids share precious memories with the All About Mom Keepsake printables. Just print, let your kids answer the prompts and frame them (frames not included with this order).
Note: Digital download only.  No products will be shipped to you.