---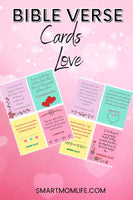 What does the Bible say about love?
Get these printable Bible memory cards with your favorite Bible verses on love. 
Print the cards, cut them into individual verses and choose a verse to study or share.  Laminate the cards for longer use. 
These cards are great for weekly Bible verse memorization or sharing with friends.
Verses included:
I Corinthians 13:7
I Corinthians 13:13
John 15:13
I John 4:8
I Corinthians 13:1
John 14:23
John 22:17
Genesis 29:20
Note: Instant digital download. No product will be shipped to you.