---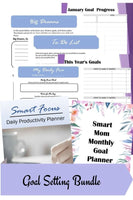 With the Goal Setting Bundle, you get the Smart Mom Monthly Goal Setting Planner and Smart Focus Daily Productivity Planner.
Research shows that people who write down their goals are more likely to achieve their goals. Together, these two planners will help you achieve your goals by writing your goals and creating a daily action plan to get them done.
Start with the Smart Mom Monthly Goal Planner by defining your monthly goals, creating an action plan, and tracking your progress.
Then, use the Smart Focus Daily Productivity Planner so you have laser focus each day to get the right things done and reach your goals.
See how much more you get done every day with written goals and clearly defined action plan.
Instant digital download. No products will be shipped to you.
Love it
Really enjoy your products
awesome
great for my adhd daughter
Goal Setting Bundle
The Goal Setting Bundle is such a great workbook planner to organize and do your planning the right way. It's very functional, pretty and easy to use.