---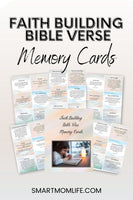 The Bible teaches us to hide God's Word in our hearts. When we teach our kids to memorize scripture they are hiding God's Word in their hearts. 
As our kids memorize scriptures day by day, these verses become part of their thought life, worldview and build their faith.
The Faith Building Bible Verse Memory Cards include 30 verses/passages you and your kids can memorize to build your faith. 
Teens and tweens struggle with doubt, fear, and anxiety. These Bible verses were chosen with tweens and teens in mind to give them confidence in who they are in Christ and life-changing Bible promises.
Verses included are:
I Kings 3:9 - Solomon's prayer for wisdom
Matthew 5:6 - Thirst for righteousness
Psalm 56:3 - I'm afraid
Isaiah 30:21 - Walk in God's way
Isaiah 48:17 - God shows us His Way
Isaiah 41:10 - Don't be afraid, God is with us
Psalm 32:8 - God gives guidance
Romans 7:18-19 - Our struggle is real
John 14:15 - Keep my commandments
Numbers 6:24-26 - A blessing
Philippians 4:6-7 - Don't be anxious
Philippians 4:13 - I can do all things
I Corinthians 10:13 - Overcoming temptation
I Timothy 4:12 - The value of youth
Psalm 119: 9 and 11 - Purity
Psalm 119:105 - A light for our path
Philippian 4:8 - Right thinking
II Timothy 2:17 - What God gives us
Ecclesiastes 3:1-4 - Seasons of life (part 1)
Ecclesiastes 3:5-8 - Seasons of life (part 2)
Ecclesiastes 12:1 - Remembering youth
Ecclesiastes 12:13-14 - Our duty
Joshua 1:9 - Don't be afraid
I John 5:12 - Life in Christ
Jeremiah 29:11 - Plans for you
Proverbs 1:7 - Wisdom
James 1:5 - Just ask
Romans 8:1-2 - No condemnation, no guilt
I John 1:9 - He faithfully forgives
Ephesians 6:10-11 - Put on the armor of God
These verses are designed to memorize one or two a week. If you homeschool, you will have enough verses for the entire school year.
Grab your copy of the Faith Building Bible Verse Memory Cards today.
Note: Bible verse quotes are from the World English Bible (a translation similar to the NKJV).
Instant digital download, no products will be shipped to you.
Faith Building Bible Verse Memory Cards
I'm looking forward to providing these cards for my daughter. They are visually appealing and make it easier to tackle memorizing verses a little at a time.
faith building bible verse memory cards
I really do enjoy these thank you
Faith Building Bible Verse Memory Cards
They help us,both my child and me, memorise the voice of God!!!Thank U