---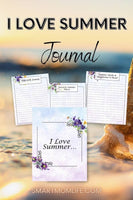 What are your favorite things about summer? 
The I Love Summer Journal is a summer bucket list journal to help you think about and plan your best summer ever filled with your favorite summer activities and more.
With this journal, you can make summer bucket lists of everything you love about summer including:
Fun with family
Fun with friends
Summer animals
Favorite Summer Places
Summer Books and Magazines to Read
Summer Travel
Summer Hobbies
Summer Interests
Summer Food
Instant digital download. No product will be shipped to you.