---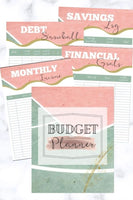 Track your monthly income and expenses with this simple home budget template.
Manage your money, understand your spending, and build a debt snowball.
Household Budget template pages included:
Savings planner
Income tracker
Expense tracker
Debt Snowball
Financial Goals
Get your Simple Budget Template today.
Instant digital download. No product will be shipped to you.
Great Find!!!!
I am ready to purchase the entire bundle!!!
best will remotely working
thank you for providing this for free
Simple Budgeting Template
Budget
I love the layout of the template. I want to teach my children to start budgeting their money so they will always have something to fall back on in times of crisis.