---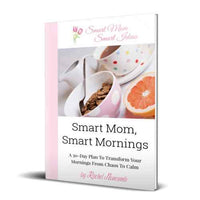 Wouldn't it be nice if your mornings started with calm and focus?
Imagine how different your days would be if you started your mornings with a purpose and a clear plan?
Smart Mom Smart Mornings is a 30-day action plan for busy moms that will take you from morning chaos to morning calm and success.
Here are a few things you will learn:
The simple mindset change that makes all the difference in your morning success
Why mornings are the most important part of your day
How to plan your perfect morning routine
How to overcome morning your challenges
How to set goals you can achieve
And so much more...
In just 15 minutes each day, this 30-day plan will help you see why your mornings are causing you stress and chaos and how you to make your mornings calm (even if you have small children).
Get your copy today and start your morning makeover.
Instant digital download only.  Nothing will be shipped to you.