---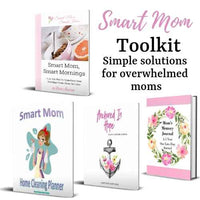 Hello, Friend and welcome to the Smart Mom community! I hope you enjoy our community and find the resources you need to make your mom life easier.
As a special VIP, I'd like to offer you a few of my favorite products bundled together in the Smart Mom Toolkit.
Here's what's included in the Smart Mom Toolkit:
Make your mornings easier with Smart Mom Smart Mornings (ebook - it's a 30-day study on making over your mornings) and Smart Mom Smart Mornings companion workbook
Simply your cleaning with the Smart Mom Cleaning Checklists (perfect for getting your kids to help with the cleaning)
Be encouraged with the Anchored in Hope 30-Day Scripture Journal featuring Bible verses to strengthen your hope and trust in Jesus.
Practice thankfulness by writing every day in a Gratitude Journal with daily writing prompts
Inspiration quotes printables
A One Line a Day 5-year journal so you never forget a special memory or moment with your kids again.
Special bonus - Encouragement & Inspiration a Coloring Book for Moms.
Instant digital download. No products will be shipped to you.
Smart mom toolkit
Loved it I plan on ordering more in the future
VIP Toolkit
It's a great Kit. Exactly what I was looking for for so long. Great quality and Great ideas. I am so thankful and happy. I am loiking forward to what comes next. Thank you so much. A fantastic help and big motivation for every day. Nathalie
Best Mommy Tools!
This tool kit gives me so many great avenues and activities for myself and my kiddos, I enjoy great finds like these! :)