---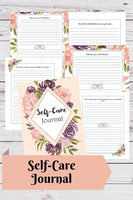 Do you ever feel you have to take care of everyone else before you can take care of yourself?
Does it seem that more and more often you miss your quiet time or taking a few minutes for yourself?
With the busyness of everyday life, it's easy to skip taking care of yourself.
We think we don't have time for self-care and sometimes we feel self-care is selfish.

But not taking care of ourselves, usually adds to the overwhelm and stress we feel each day. This self-care journal will help you step back and see what you are missing, what's causing your stress, and what brings you happiness. 
This self-care journal provides 30 self-care journal prompts including:
Create a bucket list
Write about what makes you happy
Understand what causes you stress and find solutions
Discover what makes you calm and how to add these activities to your daily routines
Find new ideas to relax and be inspired
Additional pages to create your own prompts and daily journaling habit
Self-care only takes a few minutes each day.  Get your self-care journal today and find out how daily self-care journaling can reduce stress and anxiety in your life.
Instant digital download.  No product will be shipped to you.