---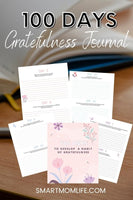 In times of stress, it's easy to miss life's little (and big) blessings. Take a step back and write a few thoughts each day that will help you see how to be more grateful even in difficult times.
This guided gratefulness journal gives you 100 prompts to help you see the many people, events, and things you can be grateful for in your life.
Each page in this journal has 2 prompts and space to write your thoughts for the day.
Here are a few sample journal prompts:
Recall one of your happiest experiences from childhood. Why are you grateful for it?
Look around you, what are the most basic everyday things you are grateful for?
What would you tell your younger self to be grateful for?
Who in your family are you grateful for and why?

One experience in the last 30 days that made you happy.
And many more...
These gratefulness prompts will allow you to reflect on people, events, and the everyday things we overlook and let you be grateful. 
Don't underestimate how gratefulness changes our perspective and outlook.
 Bonus Gratefulness Wall Art is also included.
Note: Instant digital download. No product will be shipped to you.