---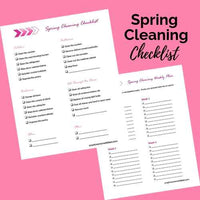 Clean your home fast with this spring cleaning checklist. A quick cleaning checklist for your home. 
This 2-page checklist includes a 1 page done for you checklist and a blank checklist to create your own cleaning plan.
Instant Digital Download.  No product will be shipped to you.
Spring Cleaning Check and Check
I liked the Spring Clean checklist. It helped me to work in one area at a time while not feeling like I'm spending the whole day cleaning.
Spring cleaning checklist
Very useful and will help me to stay organized.
The checklist is great!
I love the check list and have already used it!!!!
Spring Cleaning Checklist
helpful
thought that it really helpful to get me started